Reclus Hut, Port Stanley
Reclus Hut, also known as Portal Point, was built in 1956 on an exposed area of rock close to the sea on the tip of Cape Reclus on the Antarctic Peninsula. In 1957, three men from Danco Island (Base O) wintered in the small hut in order to carry out local survey work.
During the same winter, a team of four men from Hope Bay (Base D), including the famous polar explorer Sir Wally Herbert, set out on an epic sledge journey with two teams of dogs to make the first East-West crossing of the Antarctic Peninsula. The team from Reclus Hut laid depots for the Hope Bay team and looked for a suitable route for them. The Hope Bay team made the epic journey to Reclus Hut in 54 days.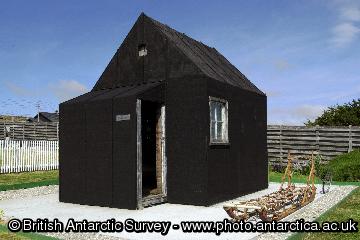 The hut was not used after 1958. In March 1996, it was carefully recorded and dismantled by a team from BAS and taken to the Falkland Islands. The hut was rebuilt by a team of Royal Engineers in the grounds of Stanley Museum in November 1998. It contains many of its original contents from the late 1950s.