Wordie House, Argentine Islands - Antarctic Historic Site and Monument
Wordie House, Winter Island, Argentine Islands (65°15'S, 64°16'W)
Designated under the Antarctic Treaty System as Historic Site and Monument No. 62.
Argentine Islands (Base F) is of historic importance as an example of an early British scientific research station. It was established in January 1947 by the Falkland Islands Dependencies Survey as Base F Argentine Islands (on the site of the hut used by the British Graham Land Expedition [1935/36]) and closed in May 1954. A new base also named Argentine Islands (later renamed Faraday) replaced the original base on nearby Galindez Island. The normal occupancy of the Argentine Islands station was 4 to 5 people.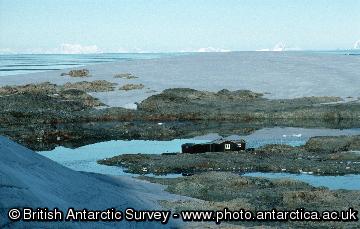 Meteorology was the most important scientific research carried out at the station. Recording instruments were housed in meteorological screens, one of which can still be seen today a short distance to the east of the hut. The meteorological recording programme was transferred to the larger base on Galindez Island when the station closed and has continued to the present day, resulting in one of the longest and most important continuous scientific datasets from the Antarctic.
The original main hut, "Wordie House", now comprises the kitchen and bunk room. The base was extended in 1951 to include a generator shed, office, store and toilet. Other surviving remains include the meteorological screen and flagpole. There are also two "British Crown Land" timber sign boards, one to the south-west of the hut and the other to the north on Galindez Island. These signs are now very rare and were erected when the station was constructed in 1947.
Argentine Islands base was designated as Historic Site No. 62 in 1995. The base was carefully maintained and used regularly as a refuge by BAS personnel from the nearby Faraday Research Station until its closure as a British Station in February 1996. Faraday was then transferred to the Ukraine and renamed Vernadsky. Personnel from Vernadsky now maintain and look after the base for the BAS.