Waste, Pollution and Clean Up in Antarctica
Antarctica is the largest and most pristine wilderness on Earth. Covering an area 58-times the size of the UK, Antarctica has no permanent human inhabitants, but up to 10,000 scientists and support staff work there each year during the Antarctic summer.
As well as being the most sparsely populated continent on Earth, its environment is also the most stringently protected. The Antarctic Treaty's Protocol on Environmental Protection – which the UK was the first nation to sign – designates Antarctica as a natural reserve devoted to peace and science.
As the UK's national Antarctic operator, British Antarctic Survey (BAS) is responsible for most of the UK science in Antarctica and for safeguarding its environment. BAS's environmental policy ensures that its globally important science has the minimum impact on Antarctica's fragile environment.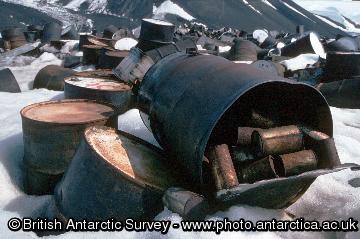 Minimising waste, preventing pollution and cleaning up historic sites are important parts of BAS's operations. BAS's Environment Office is responsible for the safe disposal of waste from BAS's five research stations, two Royal Research Ships and five aircraft.
All the waste that BAS generates – other than sewage and food waste – is removed from the Antarctic.
Although the Environmental Protocol permits the discharge of sewage and food waste into the sea, BAS has installed a biological treatment plant at Rothera – its research station on the Antarctic Peninsula – dramatically reducing the impact of sewage discharged into the sea. An incinerator has also been installed to dispose of food scraps and sludge from the biological treatment plant.
Waste on board BAS's two ships is also tightly controlled. Sewage undergoes biological treatment before discharge, and food waste is passed through a waste disposal unit. The ships are equipped with specialist waste disposal equipment – including a shredder, compactor and high-temperature marine incinerator. Other waste is stored on board until it can be disposed of. Oil and oily mixtures are also kept on board when in Antarctic waters, and both ships have oily water separators.