Tourism in Antarctica
Small-scale tourism began in Antarctica in the 1950s, with commercial tour operators providing passenger ships for intrepid travellers. The first specially designed, ice-strengthened cruise ship — the Lindblad Explorer — visited the continent in 1969. Since then the industry has grown considerably, particularly since the early 1990s, with numbers of tourists increasing from under 9,000 in 1992/93 to over 46,000 in 2007/08.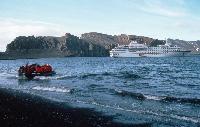 The majority of tour operators providing visits to Antarctica are members of the International Association of Antarctica Tour Operators (IAATO), which seeks to ensure that tourism in Antarctica is conducted in a safe and environmentally friendly way. IAATO is comprised of more than 100 companies from Argentina, Australia, Belgium, Canada, Chile, Falkland Islands, France, Germany, Italy, Japan, Netherlands, New Zealand, Norway, Sweden, United Kingdom, and the United States.
The Antarctic Treaty recognizes tourism as a legitimate activity in Antarctica, and BAS welcomes a small number of visits to its stations from IAATO affiliated companies during the austral summer. Small groups are given a guided tour of the facilities, where they have the opportunity to learn about the world-class science undertaken by BAS, and the logistics that support it.
To ensure that tourist visits are managed responsibly, BAS has developed guidelines for operators visiting Rothera or Signy:
Visits to Halley are considered on a case by case basis. Visits to Bird Island on South Georgia are not permitted due its status as a Site of Special Scientific Interest (SSSI).
Bids to visit BAS stations are co-ordinated by IAATO and submitted en-bloc to the Operations Manager, Mike Dinn (michael.dinn@bas.ac.uk), BAS Cambridge, UK by the end of June each year. Visits are to follow the tour ship guidelines (.doc).
Visiting British Historic Sites and Monuments in Antarctica
The UK has over the years proposed 26 sites which have been adopted as Historic Sites and Monuments under the Antarctic Treaty. Many of these were proposed jointly with other Antarctic Treaty Parties.
BAS shares the responsibility (along with the Foreign and Commonwealth Office (FCO), UK Antarctic Heritage Trust, and other Antarctic Treaty Parties) for managing six of these. For those sites frequently visited by tourists or other National Operators, Site Guidelines have been developed and adopted by the Antarctic Treaty Consultative Meeting (ATCM).
HSM No. 61 Base A, Port Lockroy (jointly managed by the UK Antarctic Heritage Trust)
HSM No. 62 Base F, Wordie House (jointly managed by Ukraine)
HSM No. 63 Base Y, Horseshoe Island
HSM No. 64 Base E Stonington Island (jointly managed by USA)
HSM No. 71 Whalers Bay, Deception Island (jointly managed by Norway and Chile)
HSM No. 83 Base W, Detaille Island
HSM No. 84 Hut at Damoy Point, Dorian Bay
Permission to visit these sites must be obtained in advance.