News Story - From Mars to the Earth: Studying ice beneath the surface
Date: 18 Apr 2008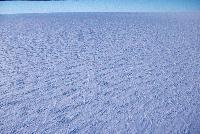 British Antarctic Survey scientists are collaborating with the European Space Agency (ESA) on a technique being used by the ESA at Mars that could prove invaluable for studying the stability of Antarctic ice sheets here on Earth. In preparation, a new ESA study is seeking to refine the radar method for use on our planet.
Funded by ESA's General Studies Programme, the new study is called Advanced Concept for RAdar Sounder (ACRAS). It will assist both Earth observation and planetary exploration by developing a technique that
uses orbiting radar at long wavelength to see beneath the surface of a planetary body and return information about the subsurface environment.
The ACRAS study is in collaboration between ESA, eOsphere Ltd, British Antarctic Survey, EADS Astrium, the German Space Agency (DLR), Max Planck Institute (MPI), and Laboratoire de Planetologie de Grenoble (LPG), plus a number of individual consultants.
Read more at:
http://www.esa.int/SPECIALS/GSP/SEM5TS3XQEF_0.html