News Story - School pupils see first ever Antarctic apple experiment
Date: 02 Mar 2009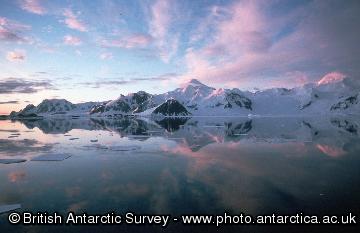 If it takes two weeks for an apple to rot in the UK, how long does it take for an apple to rot in Antarctica – one of the most hostile environments on the face of the planet but also a giant fridge?
Secondary school science pupils can find out the answer when they take part in the first-ever school experiment from an environment where temperatures can drop to minus 80 degrees centigrade and winds regularly reach over 100 kilometres per hour.
The experiment is one of a series that will bring science to life for 11-14 year olds as part of the project 'The Big Freeze: Science from Antarctica' to support National Science and Engineering Week in March.
Easy to use downloadable worksheets, created by the University of Portsmouth and the Royal Navy, will be available on the university's website www.port.ac.uk/thebigfreeze and on the HMS Endurance Tracking Project website www.visitandlearn.co.uk from Monday 2 March.
The project, which is also being supported by Dame Ellen MacArthur, the British Antarctic Survey and the Scott Polar Research Institute, will allow pupils to take on the roles of scientists and technicians in Antarctica – albeit from thousands of miles away. They will design wind turbines, solar water heaters and wind powered vehicles to travel on Antarctic ground.
Record-breaking yachtswoman Dame Ellen MacArthur, said: "When I was 11 years old, I used to sit in a small boat on the lawn in my back garden and dream that I was sailing around the world. Since then, I have been lucky enough to turn those dreams into reality and see some truly amazing places.
"The Southern Ocean and seas around Antarctica hold a special fascination for me and I am sure that the Big Freeze project will inspire the same wonder and curiosity about our planet that I had in all the young people who take part in it!"
Admiral Sir Jonathon Band GCB ADC, First Sea Lord and Chief of the Naval Staff said: "I am delighted that the Royal Navy is supporting National Science and Engineering Week for the second year running.
"Improving our understanding of the natural world continues to be a common theme of many of HMS Endurance's activities in support of the work of the British Antarctic Survey (BAS). Much of the work of BAS is concerned with understanding the Antarctic, leading to a greater awareness of the global ecosystem and the impact human activity has on it; the Royal Navy's contribution to international co-operation and science is important and something of which I am extremely proud."
The University of Portsmouth is involved in the partnership through its UP for It scheme which is aimed at inspiring and engaging children aged from 11 to 16. The scheme focuses on raising attainment and aspirations through a wide range of activities including visits to the university and the provision of exciting educational resources.
Anne Burrill, Deputy Director of Marketing at the university said: "This project is about breathing life into lessons so children can consider science in action beyond the classroom. The resources provide engaging and practical science activities which will challenge them to think beyond their own surroundings and to imagine they are in the world's coldest, driest and windiest continent."
Ends
Media contact:
Sophie Billyard
University of Portsmouth Press Office
T. 023 9284 5350
E. sophie.billyard@port.ac.uk
Notes to editors:
1. About National Science and Engineering Week (6-15 March 2009) National Science and Engineering Week is an annual 10-day, UK-wide celebration of science and engineering, co-ordinated by the British Science Association in partnership with the Engineering and Technology Board (ETB) and funded by the Department for Innovation, Universities and Skills (DIUS). Events are organised throughout the UK by a large and varied range of organisations and individuals, including hospitals, schools, universities, industry and museums.
Aimed at everyone from children and adults, to decision-makers and investors, the Week draws many scientists and engineers into the public domain to discuss their work with interested audiences. For more information about National Science and Engineering Week visit www.nsew.org.uk.
HMS Endurance's contribution to National Science Week will be available on www.visitandlearn.co.uk and www.port.ac.uk/thebigfreeze
2. About DAME ELLEN MacARTHUR – Ellen MacArthur was the youngest person ever to complete the Vendée Globe race, a non-stop voyage through some of the world's most perilous seas. She did so back in 2001, when she became the fastest woman ever to complete a solo non-stop circumnavigation of the globe. And then, in 2005, she went one better. A 27,354-nautical mile voyage round the world took her 71 days, 14 hours, 18 minutes and 33 seconds, and saw Ellen become the fastest non stop, round-the-globe single handed sailor in history.
Media contact for Dame Ellen MacArthur: Katie Green, Media & Sponsor Relations, OC Group. Tel: 07920106063. Email: Katie.green@ocgroup.com
3. About HMS ENDURANCE - HMS Endurance is the sole Ice Patrol Vessel of the Royal Navy. She spends over half of each year in the freezing conditions of Antarctica and the South Atlantic for unique surveying and scientific work. Although HMS Endurance is a Royal Navy ship, her mission is peaceful – `To patrol and survey the Antarctic and South Atlantic, maintaining Sovereign Presence with Defence Diplomacy and supporting the global community of Antarctica'.
Find out more about HMS ENDURANCE and also of the work of the Royal Navy at www.royalnavy.mod.uk
Media contact for HMS Endurance: Via the FLEET HQ Media & Comms Newsdesk: Tel: 02392 628825/5381.
4. About the UNIVERSITY OF PORTSMOUTH - UP for It Juniors, UP for It and UP for the Future, comprise the University of Portsmouth's range of programmes for 7-11, 11 -16 and 17 - 19 year olds which aim to raise the aspirations and increase awareness of the opportunities available in Higher Education. Members visit the university and take part in workshops.
Media contact for the University of Portsmouth: Sophie Billyard, University Press Office. Tel. 023 92 84 5350. E-mail: sophie.billyard@port.ac.uk
5. About the SCOTT POLAR RESEARCH INSTITUTE (SPRI) - part of the University of Cambridge, the SPRI is the oldest international centre for polar research. Today, it has developed to become a world-renowned centre for research and reference in a variety of fields relating to the environment, history, science and social science of the polar regions. The Institute was founded in 1920, in Cambridge, as a memorial to Captain Robert Falcon Scott RN, and his four companions, who died returning from the South Pole in 1912. Around 60 academic, library and support staff, together with postgraduate students, associates and fellows attached to our research programmes, work in the Institute, providing a strong core of intellectual activity focused on the Arctic and Antarctic, and in particular, ice and environmental change.
Further information can be found at: www.spri.cam.ac.uk
Media contact for SPRI
Tel: 01223 336540
6. About the British Antarctic Survey (BAS) - the Cambridge-based British Antarctic Survey (BAS) is a world leader in research into global environmental issues. With an annual budget of around £45 million, five Antarctic Research Stations, two Royal Research Ships and five aircraft, BAS undertakes an interdisciplinary research programme and plays an active and influential role in Antarctic affairs. BAS has joint research projects with over 40 UK universities and has more than 120 national and international collaborations. It is a component of the Natural Environment Research Council. More information about the work of the Survey can be found at: www.antarctica.ac.uk
Media contact for BAS: Linda Capper, Head of Press, PR & Education
Tel: 01223 221448. Email: LMCA@bas.ac.uk