RRS Bransfield - History
RRS
Bransfield
was an ice-strengthened cargo vessel, purpose-built for operation by the British Antarctic Survey (BAS). She was launched at Leith on 4 September 1970, by Lady Joyce Fuchs, wife of the then Director of the Survey.
She was designed by consultants Graham & Woolnaugh of Liverpool for NERC, and built by Robb Caledon Shipbuilders Ltd, Leith. She was registered in Stanley, Falkland Islands.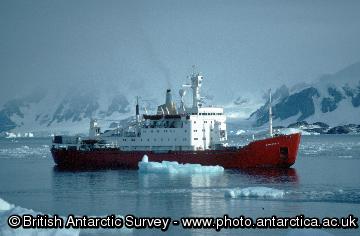 Bransfield
was BAS's main supply vessel from 1970/71-1998/99, and also had limited facilities for on-board research. She represented NERC in the Review of the Fleet at Spithead in 1977, held to celebrate Queen Elizabeth II's jubilee. Following the ship's return to the UK in May 1999, she was sold to Rieber Shipping A/S as part of the contract for the long-term charter of her replacement, RRS
Ernest Shackleton
.
Choice of Name
It is customary to name new polar vessels either after previous polar ships or after individuals associated with polar exploration.
In selecting
Bransfield
as the name for the new vessel, the Director of BAS chose to honour a British explorer who had made a significant contribution to the discovery of that part of Antarctica in which British research activities were centered at the time, namely the Antarctic Peninsula.
The vessel was named after Edward Bransfield, Royal Navy (1785-1852). He was either the master or navigator of HMS
Andromache
, based at Valparaiso, Chile, when news was received of a sighting of land further south than hitherto known. Bransfield commandeered a whaling brig, the Williams, and during 1819-20 discovered the north west coast of the Antarctic Peninsula, roughly surveyed the South Shetland Islands and claimed King George Island and Clarence Island for Great Britain. Bransfield was the first man to chart part of the Antarctic mainland.
He was born in Ballinacurra, Co. Cork in 1785 and press-ganged into the Royal Navy in 1803. He rose through the ranks from Ordinary Seaman (HMS
Ville de Paris
1803), Able Seaman (HMS
Ville de Paris
1805), Midshipman (HMS
Royal Sovereign
1808) and 2nd Master (HMS
Royal Sovereign
1812) to Acting Master (HMS
Goldfinch
1812). No portrait of him has been found to date.
Additional Information
This was in fact the second vessel to be named after Bransfield by BAS or its predecessors. The first was HMS
Bransfield
, the original expedition ship for Operation Tabarin, a secret British expedition to Antarctica during World War Two. It established the first permanent British bases on the Antarctic Peninsula and became the Falkland Islands Dependencies Survey in 1945 (renamed BAS in 1962). This vessel was a wooden Norwegian sealer built in 1918 as the
Veslekari
, and renamed for the expedition. Her service with Tabarin was inglorious - she proved to be unseaworthy, and had to be replaced before the expedition left English waters in November 1943.
Technical details
Ice Classification Lloyds 100 A1 ice class A*
Dimensions
Length 325 ft (99.2m)
Breadth 60 ft (18.4m)
Draught 22 ft (6.7m)
Tonnage 4816 gross, 1577 net
Propulsion Diesel-electric 5000 SHP (single variable pitch propeller)
Speed & Endurance
Passage speed 13.25 knots (2 engines)
10.75 knots (1 engine)
Endurance 55 days (2 engines)
90 days (1 engine)
Cargo Capacity 3450 cu m (max. theoretical capacity)
Laboratory area 550 sq ft
Accommodation 13 officers
24 crew
58 passengers
Sources
R K Headland, Chronological list of Antarctic expeditions and related historical events, 1989 (reprinted and updated 1993), Cambridge University Press (p113)
Correspondence with Sheila Bransfield, 28 May-20 June 2001 (Bransfield family historian). Ref 8/35/3767 vol 2, items 3-11
Article by Sheila Bransfield in Irish Roots No 30, 1999, 2nd quarter
BAS Registry file, Archives, information sheet 11, ships. Ref 8/35/3767 vol 1
BAS information leaflet on RRS Bransfield. Ref AD6/17/OD/1986/1
BAS Archives information source notes binder, ships section
Information from J Barnes, BAS Ships Superintendent, July 2000