King Edward Point Research Station M — History
Location of Station M — King Edward Point
(Known as South Georgia or King Edward Point until 17 Oct 1977 and as Grytviken 1977–1982)
Position: Lat. 54° 17′ S, Long. 36° 30′ W
King Edward Point, Cumberland East Bay, South Georgia
Purpose
Originally biology, meteorology, geophysics and glaciology. Since 2001, primarily commissioned research on sustainable fisheries and support for an administrative presence on the island on behalf of the South Georgia and South Sandwich Islands Government.
Occupied
1 January 1950 – 1 January 1952
13 November 1969 – 3 April 1982
22 March 2001 onwards
Buildings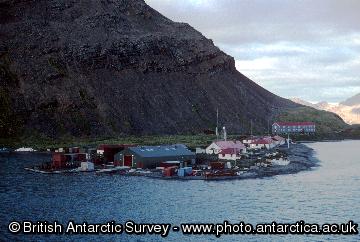 FIDS/BAS occupied buildings of the Falkland Islands Dependencies Government administrative settlement on King Edward Point, across the bay from the whaling station at Grytviken.
Discovery House was built for the Discovery Expedition in 1924/25. It was used for accommodation but later became a store and workshop.
Shackleton House was named after Sir Ernest Shackleton, the explorer who made the first major trek across South Georgia in 1915 and who was buried there in 1922.
Other buildings used included

the Customs House (now demolished);

Coleman's, the former residence of the last government administrator D J Coleman (burnt down during UK military occupation); and

Quigley's, the former residence of the last engineer on the government staff, J Quigley (later the medical facility).
During the 2000/01 season four new buildings were erected.

The biological laboratory was named the James Cook Laboratory after Captain James Cook, RN, discoverer of South Georgia and pioneer of Antarctic exploration.

A new accommodation building, Everson House, was named in honour of Inigo Everson, BAS biologist 1964-present.

The marine officer accommodation, an apartment attached to the main station complex, was named Shackleton Villa.

The other buildings are a food store and generator/boat shed.
South Atlantic Conflict: The island was invaded by Argentine troops on 3 April 1982. 13 BAS staff present at the station were forcibly removed to the Argentine ship Bahia Paraiso. A further nine BAS scientists and two photographers from Anglia TV were undertaking fieldwork at the time of the invasion and remained at various field huts on the island until it was liberated on 25 April 1982. A British Military Garrison occupied King Edward Point from then until 22 March 2001.
Temporary Field Station: A limited amount of science was resumed in 1986. The abandoned whaling station at Husvik was used as a summer field station from 1986/87–1988/89 and 1990/91–1995/96.
Field Huts have existed at one time or another at the following sites: Sörling Valley, Elsehul, Schlieper Bay, Hound Bay, Dartmouth Point, Glacier Col, Maiviken, St Andrews Bay, Hope Point, Coral Bay, Gull Lake, Carlita Bay, Royal Bay, Hodges Glacier, Jason Harbour, Ocean Harbour, Prince Olav Harbour, Lyell Glacier, Bay of Isles and Godthul.

The abandoned whaling stations at Leith Harbour and Stromness have also been used.
Current Status
Operational throughout the year.