Rothera Research Station R — History
Location of Station R — Rothera
(Known as Rothera Point until 15 August 1977)
Position: Lat. 67° 34′ S, Long. 68° 08′ W
General location: Rothera Point, Adelaide Island
Purpose
Survey, glaciology, geology, geophysics and biology. Main air facility and centre of earth sciences programmes.
Occupied
25 October 1975 to present.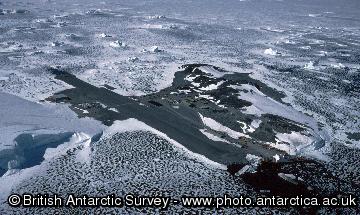 Adelaide Island was first sighted from the brig "Tula" in February 1832 when completing a circumnavigation of the Antarctic continent. Master of the ship, John Biscoe, named the land after Queen Adelaide the wife of British monarch King William IV.
In 1909 a French doctor named Jean Baptiste Charcot led the crew of the yacht "Pourquoi Pas" on a voyage down the west coast of the Antarctic Peninsula. His expedition named many of the features they could see from Marguerite Bay. It was not until the British Graham Land Expedition of 1934–1937 that Adelaide was confirmed to be an island separate from the Antarctic Peninsula.
From 1955 to 1960 the UK maintained a survey station on Horseshoe Island on the east side of Marguerite Bay. In 1957 two surveyors John Rothera and Peter Gibbs crossed the frozen sea ice and explored the area now known as Rothera Point.
From 1961 to 1977 UK activity in the area was conducted from Adelaide Island Station located at the southern tip of the island. For many years this proved a good base from which to undertake further survey of the Antarctic Peninsula.
Rothera Station was established in 1975 to replace Adelaide Island Station where the glacier ski-way had deteriorated rendering the operation of ski equipped aircraft hazardous. There was a phased construction programme so that by 1980 the station provided accommodation, electrical power generation, vehicle workshops, scientific offices and a store for travel equipment.
From Rothera's inception to the 1991–1992 austral summer season BAS Twin Otter aircraft used a glacier ski-way 300m above the station on the Wormald Ice Piedmont. During that summer a gravel runway and hangar facility was commissioned bringing a more reliable air operation and the possibility of a passenger aircraft link from outside the continent. Up to this time everyone coming to Rothera had to depart from the Falkland Islands by ship.
Today the development of the Rothera site continues, this is not an expansion but an ongoing programme of replacing old structures making best use of new technologies. Improved insulation and energy production and management systems can further reduce the environmental footprint of the station.
Current Status
Operational throughout the year.
Damoy Point was previously used as a transit facility for Rothera.