Archives Service - Collections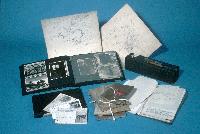 The BAS Archives Service holds a wide variety of holdings:
Scientific Data and Records

- Field notes and observations, maps, photographs, working papers and data in a variety of formats produced by BAS scientists and research groups involved in all aspects of Antarctic research.

Survey and Mapping

- Antarctic maps, historic topographic survey data and photographs, air photographs, UK Antarctic map collection.


Photographs and Films

- Official photos and footage showing Antarctic activities, bases, ships and aircraft as well as donated collections. A small number of photos from the archives collection are available to view and purchase online via the BAS Image Database.


Scientific and Operational Reports

- Internally published scientific reports, internal base and field reports on the maintenance, operation and scientific actvities undertaken at British research stations in Antarctica from 1940s to present.

Publicity

- Annual reports, business plans, calendars, leaflets etc.

Administrative Papers

- Includes files, reports, instruction manuals and technical drawings, including records head at previous headq

uarters in Port Stanley, Falkland Islands and London.

Cruise Records

- ships logs and cruise reports of science undertaken.

Records of Operation Tabarin

- secret world war II mission (1943-45).

Items returned from the Antarctic

- records returned from British stations when they closed, mainly concerning station administration and recreation.

Reminiscences

- Oral history recordings, memoirs and diaries.

Clothing and Artefacts

- a small collection of clothing worn by BAS staff and other artefacts.
We don't collect general material about Antarctica, for which the Scott Polar Research Institute is generally the most suitable repository. However, we are interested in the private papers of former members of staff, which complement existing holdings.
Additionally, the records of a number of organizations closely related to BAS are held on long-term loan. We also maintain a database inventory of the paintings owned by, or on loan to BAS.
A database of the artefacts at British historic sites in the Antarctic is maintained by the UK Antarctic Heritage Trust.