Featured Science Paper
Antarctic climate change over the 21st century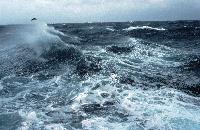 Reporting in the Journal of Geophysical Research BAS scientists have conducted a comprehensive assessment of climate change projections through this century. They analysed data from 18 of the 25 climate models that contributed to the Intergovernmental Panel on Climate Change (IPCC) Assessment Report 4 (AR4). By combining results from a large number of different models, and by weighting the projections according to how well the models represent late 20th century mean climate, the results should be more reliable than those obtained from experiments with a single model.
A key focus of the study was to assess projected changes of near-surface winds over the Southern Ocean around Antarctica. The winds over the Southern Ocean are an important component in determining the exchange of heat, momentum and gases between the ocean and atmosphere. The effect of changing winds on the efficiency of the Southern Ocean CO2 sink is currently a subject of strong debate and is important to projections of atmospheric CO2 concentrations in the future.
The annual average near-surface winds over the Southern Ocean (at 60º south) are projected to increase in magnitude by approximately 20%. However, splitting up the annual average trends into seasonal trends revealed a seasonal cycle with the largest increases (27%) in the austral autumn. It was found that this seasonal cycle can be explained by changes to a large-scale weather pattern known as the semi-annual oscillation (SAO).
The projected changes of other variables were also assessed. The surface warming averaged over the continent is projected to be 0.34ºC per decade. Projections of Southern Hemisphere sea-ice area show a decrease rate of a quarter of a million square kilometres (3%) per decade. By the end of the century the snowfall rate over the continent is simulated to increase by 20% compared to current values, which, if other effects such as melting and dynamical discharge are ignored, would result in a negative contribution to global sea-level rise of approximately 5cm.
The paper, Antarctic climate change over the 21st century by Tom Bracegirdle, William Connelly and John Turner was published in the Journal of Geophysical Research Vol 113, D03103, doi:10.1029/2007JD008933, 2008
Read this paper in the NERC Open Research Archive.
Authors
Tom Bracegirdle, William Connelly and John Turner
Publication
Journal of Geophysical Research Vol 113, D03103, doi:10.1029/2007JD008933, 2008