Twin Otter Aircraft
De Havilland Canada Twin Otters (DHC-6) are a vital part of BAS Antarctic operations. They transport science teams out to their field camps, they resupply them or move them during the season and then return them to Rothera or Halley.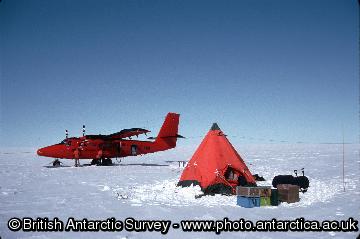 The Twin Otter is a high wing, twin engine, turbo-prop aircraft. They are used all over the world and are known for their rugged construction, reliability and 'Short Take Off and Landing' (STOL) performance. In other parts of the world, Twin Otters are often termed a 'bush' aircraft as they are designed for remote environments.
The version operated by BAS is the wheel/ski equipped aircraft which lands on snow, ice or any other type of hard runways. During a typical season they will transport people, fuel, skidoos, sledges, food and scientific equipment to remote camps, landing on skis on unprepared snow. The planes will also lay depots and stockpile fuel for field science parties.
The Twin Otters are extremely versatile and can be modified to allow airborne surveying and other scientific equipment to be fitted. Remote sensors fitted to the aircraft provide scientists with data on land, ice and sea. Radar can decipher features under the ice or layers within the ice itself. Longer-term monitoring from the air can be used to record the break-up of ice sheets or atmospheric changes.
Twin Otter Fact File
Wing span: 19.8 m
Length: 15.7 m
Take off weight: 5,670 kg
Engines: Twin turboprop
Range: 1,435km
Maximum speed: 130 knots
Two of the four BAS Twin Otters are equipped with a full remote sensing capability. This includes a dual magnetometer – instruments used to measure the strength and direction of a magnetic field, which help detect different rock types.
Other instruments include a radio echo sounder which is used to bounce radio waves through ice to determine its thickness. There are also sensors to detect the colour of the ocean – for assessing the amount of plankton – and several different types of cameras employed for mapping or for counting the populations of birds, penguins or seals.