Several degrees below canvas - camping in Antarctica
Page: [1] [2]
Despite its simplicity, life in a tent in the Antarctic is not as bad as it sounds. According to Vaughan: "When everything is set up right, living in a tent in Antarctica is much more comfortable than being in a tent in the winter in the UK. It's dry, and you don't need to worry about lack of fuel or where the fresh water is coming from. It's only when the weather begins to get grim - which means windy or warm - that you have problems. If the snow starts to melt it's horrible, because things start to get wet."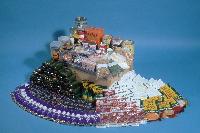 When the weather deteriorates, BAS scientists have more than just wind to contend with. BAS oceanographer Dr Keith Makinson has spent up to three months in the field, including stretches of up to three weeks "laid up" in his tent in bad weather. "With practice you get better at it. Killing time in a productive way is a skill you have to learn," Makinson explains.
"You can do more cooking. You have ingredients that you've taken along as goodies, but that require time and effort to prepare. So during bad weather you can invest time and effort in making some great culinary creations. I cooked a fruit cake once by putting two pans inside each other with a couple of nuts and bolts as spacers to make an oven, and even if it's a little charred on the outside, the cake still tastes wonderful," he says.
Craving carrots
Although the food boxes BAS uses in the field provide scientists with a balanced diet - high in the fat and carbohydrates necessary to supply the 3,500 calories a day that humans require to fuel them in sub-zero temperatures, there are many items they miss. Almost obsessively so. "You do become a little bit obsessed by food. Your body tells you what food you really need. You get very jaded by eating a high carbohydrate diet, and what you really want is what you haven't got - fresh fruit and vegetables. I miss a good crunchy carrot - something that tastes nice, rather than sweet and fatty," Vaughan says.
Polar Prose
Desert Island Disks-style, we asked BAS scientists which books and what kind of music they take south, and what their luxury would be.
Dr Keith Makinson is an oceanographer and has worked for BAS since 1988. Music he took south last season included Meatloaf, Medwin Goodall and Celine Dion. "My selection must include music that is mellow, uplifting or stimulating to reflect - or change - my moods. After half an hour lying down in the tent, eyes closed, with the music on loud, I generally come out feeling like a new person," he says.
Glaciologist Professor David Vaughan prefers to take books in place of music. The books he's read in his tent most recently include Graham Swift's Waterland and J K Rowling's Harry Potter and the prisoner of Azkaban. "I read Waterland while working on an ice shelf – a most unnaturally flat landscape. It made a strange resonance with the flat fenlands that are described in the book. Harry Potter is the ultimate in escapism and something to save for bad weather, so you can immerse yourself in it completely," Vaughan says.
And their luxuries? For Makinson it's butterscotch Angel Delight. "An absolute taste sensation after eating field rations," he says. Vaughan opts for something a little more sophisticated – a nice Shiraz.
As well as lack of fresh food, isolation can be a challenge. Modern communications technology is another aspect of Antarctic life that would astound Scott and Shackleton. BAS field parties go equipped with both high-frequency radio and Iridium phones, which allow them to communicate with the nearest research station as well as with friends and family in the UK. "I still find it extraordinary that you can stand outside your tent - with a wonderful view if you're lucky - and speak to home," Makinson says.
Loneliness bothers him less. "The moment when you really feel the isolation is when you're the first at the site. The plane drops you off with your pile of equipment and then it just goes. That's the one moment when you're very much alone. But I enjoy the field environment. I like the isolation; getting away from it all. Life is pretty simple there, and when the work's going well it's very enjoyable. The Antarctic environment is something you feel you want to make the best of, enjoy and soak up."
Images © British Antarctic Survey / Words © Becky Allen.