Health in Antarctica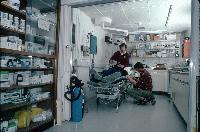 Considering the nearest hospital is in the Falkland Islands and station personnel are completely cut off in winter, it's vital that everyone living and working in Antarctica is fit and healthy. However, if medical attention is required then the larger stations have a fully equipped doctor's surgery which can also double as a dentist's and even, for a worst case scenario, an operating theatre.
Each larger station has a doctor on the staff. Personnel on the smaller stations or operating in the field are fully trained in first aid.