Fossil Bluff Logistics Facility
Position: Latitude 71°20' S, Longitude 68°17' W, Fossil Bluff, Alexander Island
Chief activity: Forward logistics facility with skiway.
Occupied: Intermittently 20 February 1961 to present. Occupied during the winters of 1961, 1962, 1969-75. Summer-only occupation since 1975.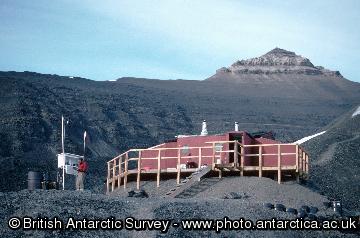 Fossil Bluff hut lies at the foot of a scree covered ridge overlooking George VI Sound which separates mountainous Alexander Island from Palmer Land. George VI Ice Shelf occupies the sound and provides a north-south route for travelling parties except in high summer when the surface of the ice shelf is flooded with extensive areas of meltwater. To the west and north-west lie Planet Heights, an extensive range of mountains rising to over 1500 m.
Fossil Bluff is a forward facility for refuelling aircraft and is operated by Twin Otters from Rothera station during the Antarctic summer season between October and March. There is a 1200 m unprepared snow runway (skiway) marked by drums 1 km south of the station. Very soft snow surfaces in midsummer may make landing inadvisable.
Twin Otter aircraft ferry drums of fuel from Rothera to Fossil Bluff each summer to maintain the size of the fuel depot. The station is 90 minutes flying time from Rothera.
Fossil Bluff houses four people in comfort and forms a transit station for summer field parties.